Product Description
TUMBLED JADE STONES from BC, Canada
Size Medium: 10 to 14 grams, 3/4 to 1 inch (2 to 2.5 cm)
Free information card about the metaphysical healing meanings of Jade stones included with purchase, as well as a pamphlet on the metaphysical meaning of healing stones and how to use & care for them.
Jade stabilizes your personality ...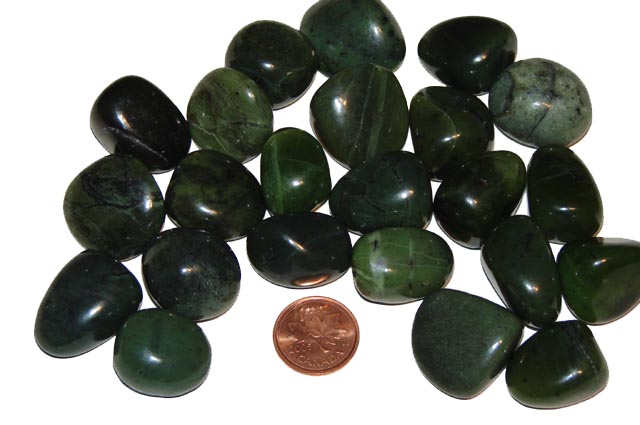 Save
Find Similar Products by Tag
Product Reviews
Very Nice

Posted by Unknown on 2017 Jun 3rd

Wonderful green.

Beautiful and soothing polished Jade stones!

Posted by Joanne on 2017 Apr 9th

Thank you Diane for choosing three really lovely jade stones to fill my order. Since cleansing, two of the stones have found a permanent place on my night stand beside my bed and for a good sound sleep I place one of the stones under my pillow each night. The third stone, which I see as the Holy Trinity, I carry on my person at all times, usually in a pocket. This stone is so beautiful I am looking to having it made into a necklace. If you are in the least interested in acquiring any of these beautifully polished Jade stones, go for it. You won't be disappointed. Diane will do her best to please you.

Very Vibrant!

Posted by Lorin on 2017 Mar 13th

I was looking for stones to purchase on here and this one caught my eye. This stone is a very color and has a very sweet energy. I think it is a very nice stone to have in a basic line up of healing items, recommend.

Beautiful!

Posted by sumr86 on 2016 Sep 26th

These are lovely. They have a nice color and energy to them. Thank you!

Love this color

Posted by Karen A Seligman on 2016 Sep 22nd

This was on the list that Diane compiled for me to buy the stones for my granddaughter. i asked her for a list of good stones for children. The suggestions were spot on, Mya loves all her stones

Lovely, calming stone

Posted by Cheryl Johnson on 2016 Sep 21st

This is such a pretty stone and it brings a feeling of peace and calmness and balance to me. I would highly recommend it.

Beautiful.

Posted by Jaimie on 2016 Jul 12th

I received this item exactly as ordered. Great quality and absolutely beautiful!