Product Description
CEREMONIAL TOBACCO (7 grams)
Ceremonial Tobacco is traditionally used for purification and as an offering to the spirits.
Tobacco is a powerful healing ally to Native Americans who use it in prayer. Use it for blessing and offering.
Use Ceremonial Tobacco over charcoal or scatter.

Native American tradition is that each of the four sacred medicines was given to the First Nations people as a means of communicating with the Creator. Tobacco was the first plant to be received, and is therefore considered to be the most powerful of all medicines. Tobacco is followed by sage, cedar, and sweetgrass. It is sometimes thought that tobacco sits in the eastern door, sweetgrass in the southern door, sage in the west and cedar in the north; however, these assigned directions differ from First Nation to First Nation. Together, this quartet works to establish a potent connection to the Creator and the Spirit World.
Not for internal use; not to be smoked.
This ceremonial tobacco is Cigar/Fronto tobacco that is grown in Virginia and light fire cured. I I once asked my supplier whether it was organic and the following was their reply: "Unfortunately, there aren't any farmers that sell organic cigar tobacco, but we do have a farmer who is trying it out this year. For some reason, it's easier for them to grow organic cigarette tobacco. The Light Fire Cured that you purchase may not be organic, but it is considered all natural as some farmers use a food grade pesticide on all natural tobacco, but absolutely never anything such as Roundup. Some farmers do practice organic farming/growing methods, but since they don't have the money to become certified, they can't claim that is how they do it."
In Native American rituals, ceremonies, and religious observances, tobacco is the unifying thread of communication between humans and the spiritual powers. The manidog (spirits) are said to be extremely fond of tobacco and the only way they could get it was from the Indians, either by smoke from a pipe or by offerings of dry tobacco. According to tradition, the Indians received tobacco as a gift from Wenebojo who had taken it from a mountain giant and then given the seed to his brothers.
In almost all facets of their lives, Native people of the Great Lakes had reason to solicit the spirits for acts of kindness or to give thanks for past favors. Dry tobacco was placed at the base of a tree or shrub from which medicine was gathered, and a pinch was thrown in the water before each day of wild rice gathering to assure calm weather and a bountiful harvest. Before setting out in a canoe, a safe return was assured by offering tobacco on the water. On journeys or hunts, Indian men paused for a smoke and left a pinch of tobacco as an offering when they encountered certain features of the landscape, including waterfalls, misshapen trees, oddly shaped rocks, and lakes or islands said to harbor spirits. When storms approached, families protected themselves by placing a small amount of tobacco on a nearby rock or stump. Tobacco was placed at graves as an offering to the departed spirit. Requests to elders to relate oral traditions or other special knowledge were accompanied with a gift of tobacco.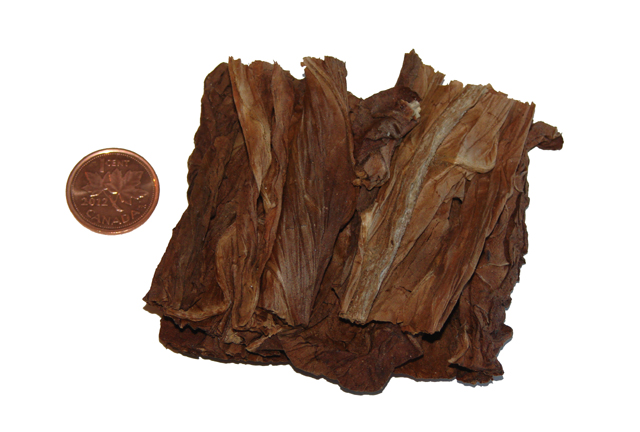 Product Reviews
Product was as advertised.

Posted by Unknown on 2017 May 11th

Great product, respectfully packaged.
Will definitely be back for more.

Great

Posted by Unknown on 2016 Dec 19th

Will be returning to order some more

review for ceremonial tobacco

Posted by Unknown on 2016 Nov 8th

good product, friendly transaction

Highest Quality

Posted by Kathie on 2016 Apr 25th

Very high quality tobacco in a nice solid chunk. Used for ceremonial work. Just love it. Highly rated.

Product exactly as shown

Posted by Unknown on 2016 Apr 18th

The product arrived quickly and was exactly as shown in the photo.

Difficult to find

Posted by Unknown on 2016 Mar 13th

Couldn't find ceremonial tobacco anywhere. So glad to find it online. Fast delivery. Great communication. Have ordered a few times, very reliable.
Customers also viewed