Magnetic Hematite Bracelet - twist beads
Magnetic Hematite Bracelet - twist beads
Product Description
MAGNETIC HEMATITE BRACELETS (twist & round beads) - Approx. 7 inches. Strong elastic thread.
MAGNETIC HEMATITE BRACELETS FOR SALE in other styles
Free info card on THE HEALING BENEFITS OF MAGNETIC HEMATITE BRACELETS as well as an info card on the HEALING BENEFITS OF HEMATITE included with purchase.
Thousands of case studies indicate that Magnetic Hematite Bracelets can help with a wide range of conditions including arthritis and asthma ...
MAGNETIC HEMATITE HEALING BENEFITS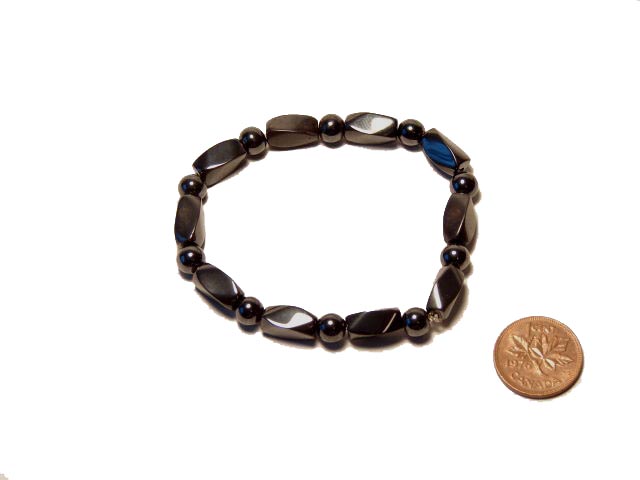 Product Reviews
Very nice, a little small

Posted by Lorin on 2017 Mar 13th

The bracelet is very nice, the information card was extremely helpful. I bought the bracelet for personal healing purposes and haven't been disappointed by the ability of the hematite. It is indeed magnetic, not strong enough to fry anything, but I would keep it from touching things like your computer or phone screen. Very pleased

Magnetic Hematite Bracelet

Posted by Barbara DeMars on 2016 Oct 18th

Fantastic for the seasonal mold allergies ! Keeps the sinus and ear passages open, no more constant infections. Has changed my normal awful autumn experience to good. Have taken 1 Zyrtec allergy pill in last 2 weeks, instead of 1-2 daily. Have given a few to various family members with same result.

We all swear by these now ! Changed my life for the better, thanks Diane !

Magnetic Hematite Bracelet

Posted by Barbara DeMars on 2016 Jun 16th

awesome !! helps my sinus and allergies lots, keeps all clear

Nature's for you is AWESOME!!!

Posted by Missy Akins on 2016 May 25th

Absolutely love this website and Diane is AWESOME!!! I have been recommending this website to my friends. Thanks for our stuff!!!! 20 stars!!!!!!

Magnetic Hematite Bracelet

Posted by Barb DeMars on 2016 May 11th

at first I thought maybe this wasn't for me, but after about an hour I adjusted to it. Seems to be clearing out my sinuses and keeping allergies at bay --- haven't taken pills in 2 days, and there is a lot of mold in the air right now. Miraculous !